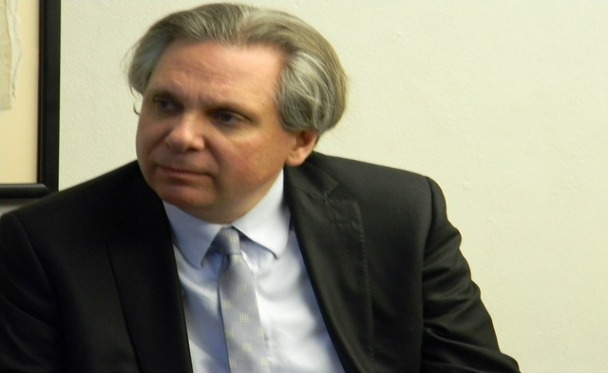 Dr. Mark Kristmanson:  Canada-U.S. Visiting Chair in Public Diplomacy
CPD Conversations in Public Diplomacy
The USC Center on Public Diplomacy was pleased to welcome to campus, Dr. Mark Kristmanson, the incoming 2011 Canada-U.S. Fulbright Visiting Research Chair in Public Diplomacy. He gave a talk titled, "The Signature of the City: The Place of Cities in Public Diplomacy."
Dr. Kristmanson discussed the emerging field of 'city diplomacy'. He spoke on how cities present an increasingly important sub-national dimension for the study of public diplomacy, comprehending aspects of security, development, economy, culture, networks and representation. This conversation introduced research questions related to the role of cities as sub-national actors in international relations, the positioning of cities in nation branding, and the role of 'place' in Public Diplomacy.
About Dr. Mark Kristmanson
Dr. Mark Kristmanson is a Canadian scholar, arts administrator and producer whose work has ranged from producing operas to organizing international conferences. As Director of Public Programming at the National Capital Commission (NCC) in Ottawa, Canada, he is responsible for national celebrations and festivals, commemorations, public art and capital interpretation programs. He holds a doctorate in Humanities from Concordia University in Montreal and an M.A. in Arts Management from the City University, London. His publications include Plateaus of Freedom: Nationality, Culture and State Security, 1940-1960 (Oxford University Press, 2003). He has worked for the National Arts Centre of Canada, the Cultural Capitals of Canada Program and was the founding Executive Director of the New Brunswick Arts Board.
Visit CPD's Online Library
Explore CPD's vast online database featuring the latest books, articles, speeches and information on international organizations dedicated to public diplomacy.