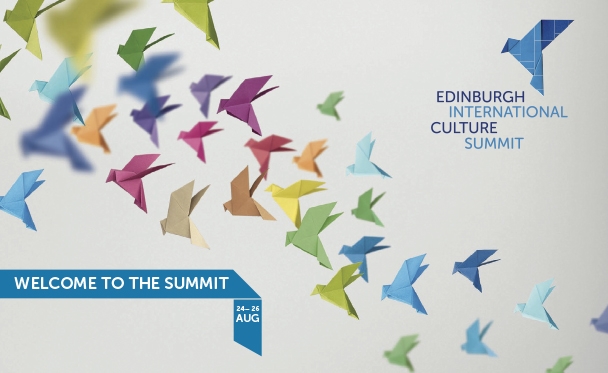 Edinburgh International Culture Summit
CPD served as a knowledge partner at the 2016 Edinburgh International Culture Summit (August 24-26) in Scotland. The biennial summit convenes cultural ministers, artists, academics and policy makers for a global discussion on critical issues in culture. This year's theme, "Building Resilient Communities," unpacked the role of culture in shaping and sustaining diverse, inclusive communities. Key thematic topics explored the protection of cultural heritage, the fiscal and social costs of investing in culture, and the barriers to cultural participation.
As a knowledge partner, CPD helped lead and participate in discussions on culture and participation, and shared summit highlights via digital channels to expand the conversation on the vital role of cultural diplomacy/cultural relations in advancing global peace and security.
The summit is a collaboration between the Scottish Parliament, the Scottish Government, the UK Government, the British Council and the Edinburgh International Festival.
More information about the summit and the schedule of events is available here.
You can watch the sessions live at the Scottish Parliament - see schedule below - or follow along on Twitter as we live tweet via #edculturesummit. 
Thursday August, 25 2016
9:30-10:15 Culture and Heritage Plenary  
14:00-14:45 Culture and Economics Plenary  
Friday August, 26 2016
9:30-10:15 Culture and Participation Plenary
14-15:15 Closing Plenary 
PROGRAM AGENDA
Wednesday, August 24, 2016
17:30-18:30
Opening Ceremony of the  2016 Culture Summit
Thursday, August 25, 2016
09:30-10:15
Culture and Heritage plenary
Francesco Bandarin, Assistant Director-General for Culture UNESCO Paris
Prince Amyn Aga Khan, Aga Khan Development Network, Geneva
Maamoun Abdulkarim, Director-General Antiquities and Museums in Syria, Damascus
14:00-14:45
​Culture and Economics plenary
Jude Kelly, Artistic Director, Southbank Centre, London
Youssou N'Dour, former Minister of Culture for Senegal, Dakar
Mike Power, Professor of Accounting, London School of Economics
Friday, August 26, 2016
09:30-10:15
​Culture and Participation plenary
David Leventhal, Programme Director and founding teacher, Mark Morris Dance Group's Dance for PD® programme, New York
Matthew Peacock, Artistic Director, Streetwise Opera London
Jay Wang, Director, USC Center on Public Diplomacy
14:00-15:15
​Closing Plenary
Rapporteurs' Summaries
Sir Ciarán Devane, Chief Executive, British Council
Fergus Linehan, Festival Director and Chief Executive, Edinburgh International Festival
Ken Mackintosh MSP, Presiding Officer, Scottish Parliament
Visit CPD's Online Library
Explore CPD's vast online database featuring the latest books, articles, speeches and information on international organizations dedicated to public diplomacy.