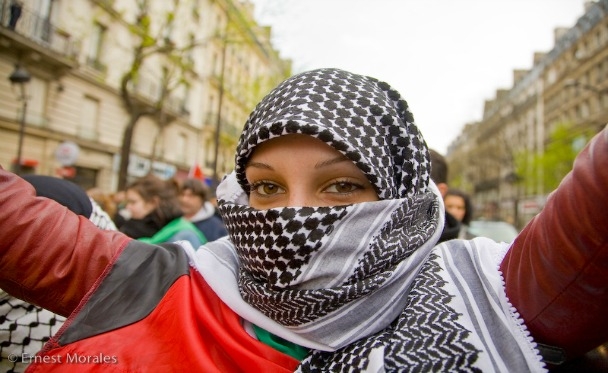 Imagining Palestine Through a French Lens
CPD Conversations in Public Diplomacy
International solidarity with Palestine has gained new momentum in the past fifteen years, from the International Solidarity Movement (ISM), which made headlines when American activist Rachel Corrie was killed by an Israeli bulldozer, to the increasingly influential Boycott, Divestment, and Sanctions (BDS) campaign. Support for the Palestinian cause has been remarkably transnational from the start, ranging from the student protests of May '68 to the Black Panthers, the Zapatistas, and the masses that converged on the streets of Tunis, Cairo, and Damascus in the 2010s.
What is it about the Palestinian cause that rallies so many devotees from such disparate national, ethnic, religious, linguistic, and political backgrounds? The conversation seeked a partial explanation and focused on one chapter in the history of pro-Palestinian activism: the story of French support for the Palestinian cause.
USC Professor Olivia C. Harrison discussed her research on pro-Palestinian writings in France's former North African colonies as well as recent examples of cultural and political manifestations of solidarity with Palestine in France. The conversation was moderated by Professor Laurie Brand, Robert Grandford Wright Professor, Professor of International Relations and Director of the Center for Middle East Studies. 
About Olivia Harrison
Olivia C. Harrison is an assistant professor of French and Italian and Middle East Studies at USC  Dornsife College.  Her research focuses on postcolonial North African, Middle Eastern, and French literature and film, with a particular emphasis on aesthetic and political affiliations between writers, intellectuals, and artists from the Global South. Her first book, "Transcolonial Maghreb: Imagining Palestine in the Era of Decolonization" (Stanford University Press, 2016), analyzes the representation of Palestine in Moroccan, Algerian, and Tunisian literary works and public debates from the 1960s to the present. She is currently working on a second book project that charts the emergence of the Palestinian question in France, both in political and intellectual discourses and in artistic works. Co-editor of "Souffles-Anfas: A Critical Anthology from the Moroccan Journal of Culture and Politics" (Stanford University Press, 2016), Olivia C. Harrison has translated essays and poems by Adbelkebir Khatibi, Abraham Serfaty, and Abdellatif Laâbi.
Visit CPD's Online Library
Explore CPD's vast online database featuring the latest books, articles, speeches and information on international organizations dedicated to public diplomacy.