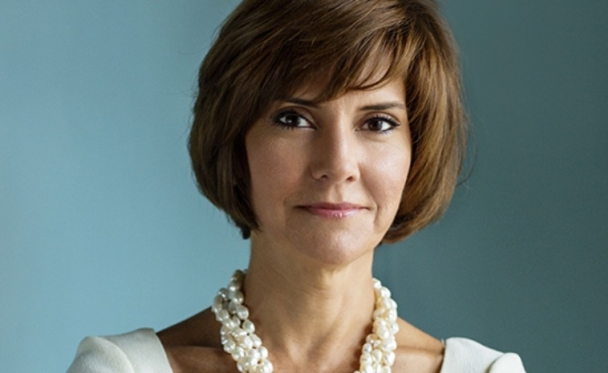 The Power of Diplomacy with Ambassador Capricia Marshall
Co-organized by The Annenberg Foundation Trust at Sunnylands
Ambassador Capricia Penavic Marshall joined CPD and The Annenberg Foundation Trust at Sunnylands on October 12 for a conversation with Willow Bay, Dean of the USC Annenberg School for Communication and Journalism.
In her roles as chief of protocol for President Obama and social secretary to President Clinton and First Lady Hillary Clinton, Ambassador Marshall guided the critical work of building diplomatic bridges, using the tools of protocol to tilt the playing field in the direction of her principals. From staging a room to have an intended effect on the participants to knowing which cultural gestures earn trust, her behind-the-scenes preparations and hidden influencers set the stage for successful diplomacy between heads of state around the world, including three presidential summits at the historic Sunnylands estate in Rancho Mirage, CA.
The conversation included an in-depth discussion about Ambassador Marshall's new book, Protocol: The Power of Diplomacy and How to Make it Work for You, which is a master class in soft power, explors the complexity of human interactions, and makes the case that etiquette, cultural IQ, and a flexible mindset matter—now more than ever.
Click to watch the full video.
About Ambassador Capricia Penavic Marshall
Capricia Marshall served as White House social secretary in the Clinton Administration from 1997-2001 and United States chief of protocol in the Obama administration from 2009 to 2013. In her posts, she enhanced traditional protocol methods with new tools to build relationships between dignitaries and industry leaders world-wide. She oversaw the diplomatic details of multiple state visits, G20 and G8 convenings, and summits such as the Nuclear Security summit, APEC, NATO and Sunnylands summits. She is president of Global Engagement Strategies, LLC, which advises international, public, and private clients on issues relating to the nexus of business and cultural diplomacy. Her clients include Bloomberg, 3M, and other Fortune 100 companies. As a first-generation American, she has brought an understanding of the importance of culture to her posts and consultations. Marshall is currently Ambassador-in-Residence at the Adrienne Arsht Latin America Center at the Atlantic Council in Washington, DC.  She lives in Washington, DC, with her husband, Dr. Robert J. Marshall, and her loving mother, Mary Penavic, and is the proud parent of Robert "Cole" Penavic Marshall.
About Willow Bay
Willow Bay was appointed dean of the USC Annenberg School for Communication and Journalism and holder of the Walter H. Annenberg Chair in Communication in July 2017. A veteran broadcast journalist and a leader in digital communication, Bay was previously the director of the USC Annenberg School of Journalism (2014–17). She launched the Annenberg Media Center in Wallis Annenberg Hall, introduced the school's new Bachelor of Arts in Journalism degree program, welcomed the first cohort of the school's nine-month Master of Science in Journalism program, forged partnerships with key media industry partners, and created new curriculum and fellowships for master's students. Bay's work to ensure that current and future communicators are fluent writers across many digital platforms was recognized with the Award of Honor from the PEN Center USA. Bay came to USC Annenberg from her post as senior editor and senior strategic adviser of The Huffington Post, where she managed editorial content and growth initiatives for the pioneering on-line news site. Her prominent broadcast experience includes reporting and anchoring for ABC News' Good Morning America/Sunday and serving as a correspondent for Good Morning America and World News Weekend. She earned a bachelor's degree from the University of Pennsylvania and an MBA from New York University's Stern School of Business.
With opening remarks by:
Professor Jay Wang, Associate Professor and Director, Center on Public Diplomacy
A scholar and consultant in the fields of strategic communication and public diplomacy, Jian (Jay) Wang is director of the Center on Public Diplomacy and an associate professor at USC Annenberg. He previously worked for the international consulting firm McKinsey & Company, where he advised clients on matters of communication strategy and implementation across a variety of industries and sectors.
Ambassador Kathleen Doherty (ret.)
Kathleen Doherty joined the Annenberg Foundation Trust at Sunnylands' senior leadership team in February 2020 as Chief Strategy and Retreats Officer. She comes to Sunnylands after a distinguished career with the U.S. Department of State, leaving the agency as a dean of the Foreign Service Institute, the State Department's premier training facility for U.S. diplomats.  From September 2015 to February 2019, she was the U.S. Ambassador to Cyprus.
Visit CPD's Online Library
Explore CPD's vast online database featuring the latest books, articles, speeches and information on international organizations dedicated to public diplomacy.