A Closer Look at PD News from India & Pakistan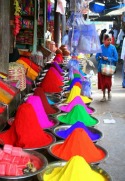 Colored powder for the Holi festival. At a market in Mysore, India. Photo courtesy of Paul Rockower ©
The beginning of spring—from the celebration of the spring festivals of Holi and Basant, to a revival of national hockey matches between the two countries—saw a step toward increasing cultural ties be-tween India and Pakistan. More importantly, the two countries, with the support of the United States began to talk more seriously about the security of the region. India and Pakistan's foreign ministers agreed on the importance of renewed dialogue, normalization between the two countries and cooperation between neighbors in order to end the war in Afghanistan and to facilitate regional security. Without a lasting peace between these neighbors, stability in Afghanistan will not be possible.
Below are some PDiN articles from March focusing on the complex relationship between India and Pakistan:
▪ Can India and Pakistan find friendship?
The Guardian
▪ From Pakistan with love
The News (UK)
▪ India, Pakistan to revive hockey Test series
Zee News (India)
▪ Pak-India relations: grounds for optimism
The Daily Times
▪ India, Pakistan and the Afghan army
Reuters Blog
▪ Holi colours smudge borders
The Khaleej Times
▪ The Twain Shall Meet Today
The Khaleej Times
▪ US rules out arbitration between India, Pakistan
Geo Television Network
▪ 'Water' in India-Pakistan talks
The Hindu
▪ US wins in India-Pakistan talks
The Boston Globe
Visit CPD's Online Library
Explore CPD's vast online database featuring the latest books, articles, speeches and information on international organizations dedicated to public diplomacy.