PD Snapshot: Film in Public Diplomacy News
This month, PDiN Monitor focused on two trends that were prevalent: the role of film, and the role of non-state actors (which, as can be seen by our graph on Public Diplomacy News by Topic, doubled from the last analysis period to this one). The role of film in public diplomacy is undeniably important, and this year's Academy Awards sparked a discussion of that role. The PDiN team collected at least thirteen stories with "film" or "film diplomacy" for this time period, which roughly comes out to an article on film and its relationship with public diplomacy every other day. Not only was the Oscar winner for the coveted Best Picture a foreign film, the Oscar for a foreign film went to the Iranian film A Separation. The boost of soft power given to Iranian citizens in the weeks that followed the win was noticeable from the news articles that focused on Iran's culture, giving a different face to the country that is often in the news as a threatening actor.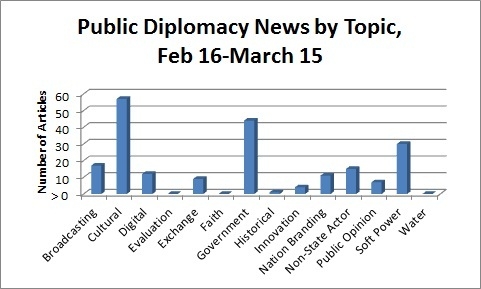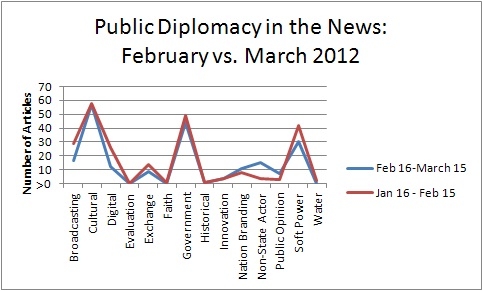 In the first weeks of March, another film received as much media attention as the films that won Academy Awards. This was the 28 minute viral video for the Invisible Children <a target="_blank" data-cke-saved-href="http://www.youtube.com/watch?v=Y4MnpzG5Sqc" href="https://uscpublicdiplomacy.org/%3Ca%20href%3D"http://www.youtube.com/watch?v=Y4MnpzG5Sqc">http://www.youtube.com/watch?v=Y4MnpzG5Sqc" title="<i>KONY 2012</i>"><i>KONY 2012</i></a> campaign. Within days, <i>KONY 2012</i> <a target=_blank data-cke-saved-href=" http:="" twitter.com="" #!="" kony"="">tweets, status updates, pictures, blogs, and articles flooded the internet. Invisible Children was extremely successful at capturing the attention of Americans and creating conversation around a very real, very foreign issue. Only days after this phenomenon, the backlash to this campaign appeared. Visit PDiN's kony2012 tag to follow the discussion on the positive and negative reactions of NGO advocacy.
As we reviewed the graphs, it was no surprise that China and the United States dominated the English-speaking public diplomacy news cycle.  Israel, South Korea, the UK, and India—while unable to compare to the coverage of the U.S. and China—also had a constant stream of public diplomacy coverage in the news. Something that caught the attention of the team was the addition of seventeen countries to our Public Diplomacy News by Country graph—most with only one or two stories covered. Some of these public diplomacy efforts that were noted parallel political tension that countries are facing, as seen in the news coverage of the verbal conflict between Azerbaijan and Armenia in the lead up to the Eurovision 2012 Song Contest.  An article about members of the Syrian resistance movement reaching out to Washington reinforces the importance of non-state actors in global politics. Zimbabwe was the focus of articles that had topics of nation branding and cultural exchange. It is clear that more and more countries are turning to public diplomacy to exert their soft power regionally and globally, as Switzerland is doing with its often-filmed landscape.
On a concluding note, I want to re-highlight an idea that Phil Seib brought up in this section last month: Activity does not necessarily signify success. To what extent can Iran's public diplomacy efforts in Latin America, or Russia's efforts with Georgia and East Asia, truly change public opinion?  Will a half-hour NGO-created advocacy documentary make a positive impact on the lives of Ugandans and free child-soldiers? Will a prestigious film award create any long-lasting results in the conflict between Iran and many countries around the world? PDiN Monitor will continue to discuss the issues these questions bring up and to hopefully add a few answers to the public diplomacy discourse.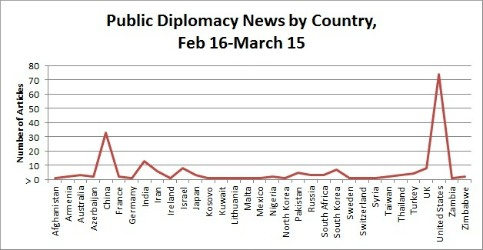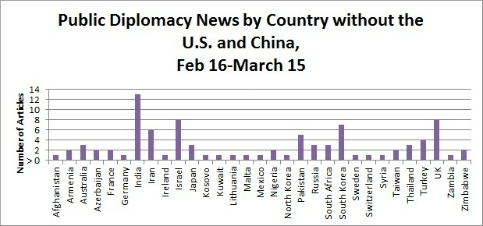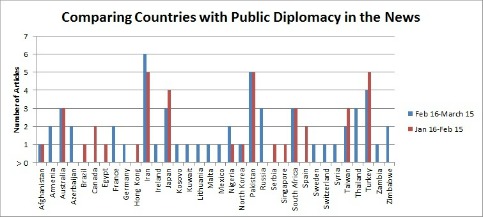 Visit CPD's Online Library
Explore CPD's vast online database featuring the latest books, articles, speeches and information on international organizations dedicated to public diplomacy.