international day of the girl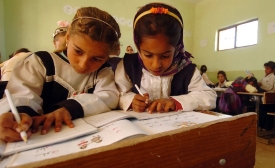 Girl Scout Kana Walsh on how more people can get involved in International Day of the Girl Child. 
Ahead of tomorrow's International Day of the Girl, children's rights charity Plan International is lobbying the Government to target more of Ireland's foreign aid budget at empowering young girls. "In a developing country, girls are the most excluded group of all and by focussing on getting girls into education and offering them an adult life beyond the domestic, they can effect enormous change in their own countries and communities," 
If you want to change the world, invest in a girl. Today marks the second anniversary of International Day of the Girl, instituted by the United Nations General Assembly to promote the rights of girls, highlight the unique challenges they face around the world, and reaffirm a global commitment to protect and empower them. Given worldwide violence, extremism, poverty, and injustice, we cannot afford to cast aside the contributions that 850 million girls can make to build a safer, more prosperous, and equitable world.