south asia satellite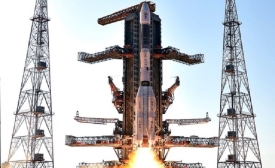 Madhurjya Kotoky discusses the importance of India's new endeavor into space diplomacy.
The successful launch of the South Asian Satellite from Sriharikota onboard the Geosynchronous Satellite Launch Vehicle (GSLV) on Friday not only reiterated the technological prowess of India's space agency, but was also a landmark in science diplomacy in the region. This is the first time a communication satellite built and launched by India will be put to the common use of South Asian countries. 
India embarks on space diplomacy like never before. For the first time, New Delhi is flexing its prowess of space technology by embarking on an unprecedented and un-chartered 'stratospheric diplomacy' through a special Rs 450 crore gift for South Asians. India is carving a very unique place in the universe, this week New Delhi will 'gift' a heavyweight bird in the sky to its neighbours through the 'South Asia Satellite'.