Trump
News reports are filled with stories that make Muslims, and those in religious minorities where they live, feel uneasy. It's clear that for many, the world has become a fearful place. So when The Star received an email from a Muslim high school exchange student expressing hope and idealism about the state of the world, editors took notice.
The Center for Public Diplomacy at the USC Annenberg School for Communication and Journalism hosted a panel Tuesday to discuss the possibilities for transformation in the relationship between the United States and Mexico based on the result of the 2016 U.S. presidential election.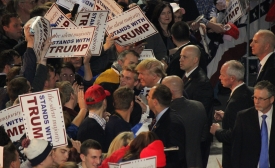 The appeal of radical groups is in their offering of a new purpose, and thus a reclamation of masculinity, for recruits.
Pages