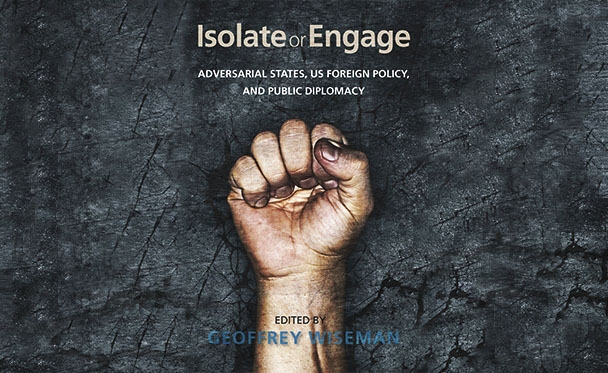 Isolate or Engage: Adversarial States, U.S. Foreign Policy & Public Diplomacy
Co-Sponsored with the USC Center for International Studies
On July 1, 2015, President Barack Obama announced that the U.S. would resume diplomatic relations with Cuba. Could this herald a new chapter in how the U.S. government deals with adversarial states? Will Iran or North Korea be next for a new or expanded diplomatic relationship with the U.S.? And what will happen with previously adversarial countries where formal diplomatic relations exist, but where problems persist, such as Russia, Vietnam, and China. Will public diplomacy be a factor in such developments?
Geoffrey Wiseman, a professor of International Relations at USC and a leading scholar in diplomatic studies, considered these issues in his recent edited book Isolate or Engage: Adversarial States, U.S. Foreign Policy, and Public Diplomacy. The book reviewed the costs and benefits of U.S. diplomatic engagement with China, Cuba, Iran, Libya, North Korea, U.S.S.R./Russia, Syria, Venezuela, and Vietnam.
Professors Geoffrey Wiseman, Robert English (a Soviet/Russia expert) and Viet Nguyen (a Vietnam expert) led an engaging and timely discussion about U.S. diplomatic engagement with Cuba, Russia and Vietnam and public diplomacy's role in its development. 
To view a recording of the event, please click here.
Visit CPD's Online Library
Explore CPD's vast online database featuring the latest books, articles, speeches and information on international organizations dedicated to public diplomacy.