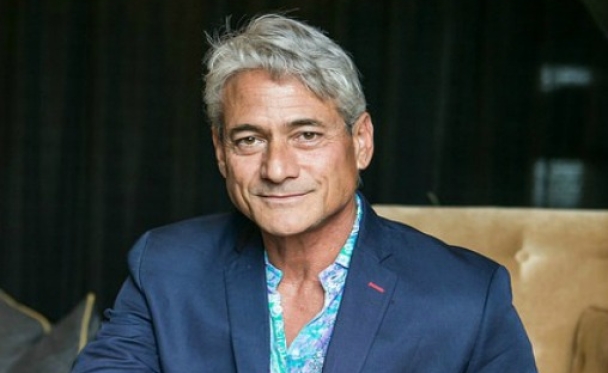 Navigating National Image and Personal Identity
Greg Louganis, U.S. Olympic diver and author, discussed his role representing both the nation and the LGBT athlete community, considering the power (and limits) of sport in effecting social change. The conversation was moderated by Alan Abrahamson, award-winning sportswriter, best-selling author, television analyst, and professor at USC Annenberg School for Communication & Journalism.
About Greg Louganis
Four-time Olympic champion Greg Louganis is widely considered the one of the greatest divers in history.  The only male to sweep both the 3m and 10m diving events in consecutive Olympic Games ('84 and '88), Greg earned a total of 5 Olympic medals, 5 World Championship titles and 47 national titles (more than anyone in U.S. history).
Often remembered for the shocking moment in 1988 when he struck his head on the springboard, Greg revealed his remarkable courage and tenacity when he returned to the board shortly after and performed the best dive of the competition.  The next day, he won the gold and secured his legacy.
In 1984, Greg received the AAU's James E. Sullivan Award for outstanding achievements.  The following year, he was inducted into the U.S. Olympic Hall of Fame.  In 1987, he won the Jesse Owens Award.  In 1993, he was inducted into the International Swimming Hall of Fame.  And in 1994, he was presented with the U.S. Olympic Committee's Robert J. Kane Award.  His 1995 autobiography, Breaking the Surface spent five weeks as the New York Times #1 best seller.
Currently, Greg is a mentor for the US Olympic diving team, a judge for the Red Bull Cliff Diving Tour, a dog agility expert, and a motivational speaker.  He is the subject of a forthcoming feature-length documentary film, Back on Board (2014) and is a regular contributor to the Huffington Post.
To view photos from the event, please click here. 
Visit CPD's Online Library
Explore CPD's vast online database featuring the latest books, articles, speeches and information on international organizations dedicated to public diplomacy.