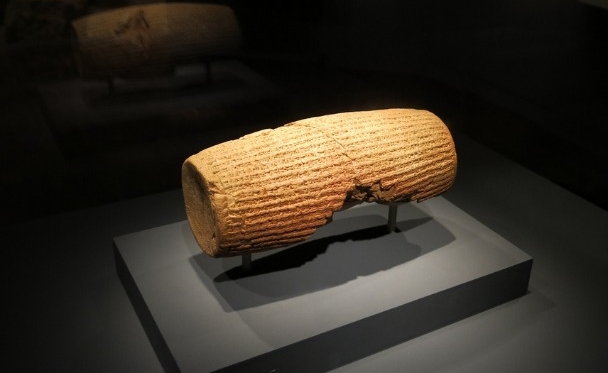 Rediscovering the Cyrus Cylinder: The Making of a Cultural Icon with Timothy Potts
CPD Conversations in Public Diplomacy
The Cyrus Cylinder, a 2,500-year-old object discovered in ancient Babylon, is considered by many to be the first declaration of human rights. This unique artifact, part of the British Museum collection, continues to excite the imagination of different peoples from around the world.
CPD hosted a fascinating panel discussion, featuring Dr. Timothy Potts and USC Professors Nicholas J. Cull and Jay Wang, on the enduring significance of the iconic object and the vital role of cultural institutions in facilitating global dialogue.
The USC Center on Public Diplomacy has been tracking media coverage of the Cyrus Cylinder tour (click here), and will continue to do so for the tour's duration from October 2 to December 2, 2013 and beyond.
This event was part of the William H. Luers Lecture Series on Iran and Public Diplomacy.
To find out more about the full exhibit at the J. Paul Getty Museum, please follow this link.
About Dr. Timothy Potts
Dr. Timothy Potts is the director of the J. Paul Getty Museum. A native of Sydney, Australia, Potts earned a DPhil in Near Eastern art and archaeology from the University of Oxford. Before coming to Los Angeles, Potts was the Director of the Kimbell Art Museum in Fort Worth, Texas from 1998 to 2007 and the Director of the Fitzwilliam Museum in Cambridge, England from 2007 to 2012.
For more information and resources on the Cyrus Cylinder, please refer to the following links:
Media Coverage
• USC in the News, "Persian Artifact Serves as Enduring Symbol for Tolerance"
• Annenberg TV News
• Interview with John Curtis, Keeper of the Middle East Collections at the British Museum
• CPD'S log of the cylinder's U.S. tour media coverage
• PDiN feature article: The Cyrus Cylinder Tour of the U.S.: Culture Transcending Politics
Related Links
• Neil MacGregor TED Talk video
• The full exhibit at the J. Paul Getty Museum
Visit CPD's Online Library
Explore CPD's vast online database featuring the latest books, articles, speeches and information on international organizations dedicated to public diplomacy.