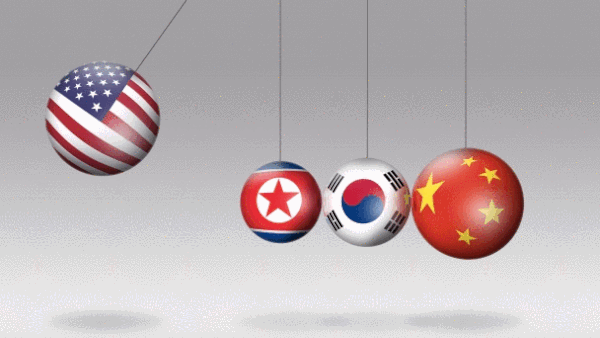 Why Public Diplomacy Matters on the Korean Peninsula
From summit diplomacy to sports diplomacy, 2018 saw the role of public diplomacy continue to grow when it came to security challenges on the Korean Peninsula.
On October 10, 2018, CPD, Indiana University's Hamilton and Lugar School of Global and International Studies and The International Center brought together leading experts in public opinion and public diplomacy for a timely discussion to broaden our understanding of the critical issues in this volatile region.
Panelists included:
Ira Helfand, MD, Physicians for Social Responsibility, Co-Chair, Nuclear Weapons Abolition Committee, and member of the steering committee at the International Campaign to Abolish Nuclear Weapons (ICAN)
Emily Metzgar, Indiana University, Associate Professor and Director of Undergraduate Studies, The Media School; CPD Research Fellow
Mark Minton, Indiana University, Hamilton and Lugar School of Global and International Studies, and Former U.S. Ambassador, U.S. Department of State
Jacob Poushter, Senior Researcher, Pew Research Center
This program was part of CPD's "Public Diplomacy Goes Local" initiative; exploring the global public diplomacy landscape from a local vantage point. The inaugural program was held at the University of Oklahoma in fall 2017.
This program was made possible by a grant from the Korea Foundation. Read more here.
WATCH
LISTEN
Trump's "Topsy-Turvy" Approach to North Korea: Ambassador Mark Minton discusses the public dimension of relationships in the region, such as the 2018 PyeongChang Winter Olympics and the highly publicized summit between the two leaders.
Global Opinion & the Korean Peninsula: Jacob Poushter shares survey data on global public opinion, such as how much Americans fear North Korea's nuclear problem, South Korea's views of the U.S. and how threat is perceived in the region.
PD, Denuclearization and the Peace Process: Emily Metzgar examines the critical importance of public diplomacy in denuclearization and establishing long-term peace in the region.
The Public Health Implications of a Nuclear War: Ira Helfand considers the public health implications of nuclear war and how governments of states with nuclear weapons should respond.
LEARN
Below, please find Jacob's Pew data presentation, "Public Opinion on Issues Related to the Korean Peninsula." 
LOOK
Click here to view photos from the event. Photo credit: Ann Schertz Photography.
Still looking for more content? Check out highlights from Twitter: #PDGoesLocal
Icons are courtesy of Flat Icon Basic License and are attributed to Freepik.
Visit CPD's Online Library
Explore CPD's vast online database featuring the latest books, articles, speeches and information on international organizations dedicated to public diplomacy.