CPD Highlights: Sports Diplomacy
Over the summer, there were numerous instances of sports diplomacy in practice throughout the world. In China, the highly anticipated basketball game between Georgetown University and the Bayi Rockets made international headlines after a bench-clearing brawl erupted during the competition. Following the heated exchange on the court, the two teams met off the court and reconciled. As it so happened, the game coincided with Vice President Joe Biden's diplomatic visit to China. Yet—and this speaks perhaps to the power of sports—the high level visit was overshadowed by what took place on the basketball court.
Another basketball event in China, the retirement of celebrated basketball player Yao Ming, was a public diplomacy win for both the U.S. and China, which celebrated the NBA superstar's legacy. Beyond basketball, sports diplomacy was a major trend in China over the summer, happening through often glossed-over sports such as rodeo and ping pong.
In Japan, which is still recovering from March's devastating earthquake and tsunami, a sign of that country's healing became evident as Tokyo applied to host the world's biggest sporting event, the Olympics, in 2020. The Japanese women soccer team's upset win over the United States in the World Cup, was also a public diplomacy victory for the country. After their rousing victory, the Japanese team held up a sign thanking the world for their support in the wake of the deadly disasters.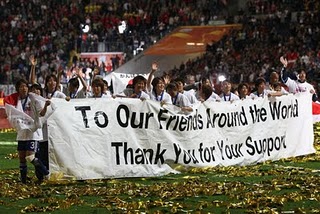 Following World Cup victory, Japanese team thanks the world.
July 18, 2011. © Creative Commons
While most sports diplomacy news came out of Asia, there were other athletic exchanges taking place all around the globe. In the United States, some youth Japanese baseball and softball players were invited to the country as part of a new State Department program, SportsUnited, an initiative that promotes sports as a tool of public diplomacy. The U.S. also sent NBC and WNBA legends to Africa as "sports diplomats."  In Europe, Microsoft founder Bill Gates teamed up with soccer team FC Barcelona to help eradicate polio. And in South America, Colombia hoped to boost its image by hosting the U-20 World Cup.  These stories and more demonstrate how sports diplomacy can be used as a diplomatic tool to strengthen a country's ties to foreign publics and governments, as well as to the rest of the world.
Visit CPD's Online Library
Explore CPD's vast online database featuring the latest books, articles, speeches and information on international organizations dedicated to public diplomacy.