Assad
Tehran faces a classic case of mission creep: It is being forced to commit ever-greater military and financial resources in Syria, falling deeper into the Syrian quagmire with no clear exit strategy. After four years of war, Assad's forces are overstretched, the regime's Alawite base is demoralized, and the Syrian economy is in a free-fall.
The aid situation in Syria—which has been dire ever since the start of the civil war—reached a desperate new low in May, with reports of government forces starving the residents of Homs to force a ceasefire, and with the NGO Mercy Corps revealing last week that the Assad regime had kicked its workers out of Damascus in retaliation for the group's work in rebel-controlled areas. The United Nations has also publicly admitted that it has been threatened with imminent expulsion from the capital if it seeks to deliver aid elsewhere in the war-torn country.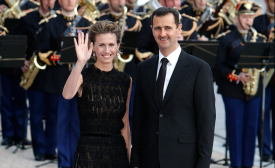 Lessons from one dictator to another.