batik
Balinese society is strongly influenced by Indian, Chinese, and Hindu cultures. This spiritual combination can be seen in the photo compilation below as a snapshot of the cultural society, with each entity incorporating a religious background. Here are a few UNESCO cultural heritage sites, both tangible and intangible.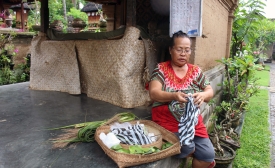 A glimpse of Balinese cultural treasures.
From panda to shuttle to ping pong to even Facebook diplomacy, there are many different kinds of diplomatic practices that aim to inform, entertain and bring two nations closer together. There is now a new form of diplomacy straight from the Indonesian island of Java; one which is so heavily entrenched in their culture that even their president, government officials and sultans wear it on official functions.