border protection
German police have been training 45 Saudi female border guards as part of a security agreement signed by the interior ministries of both countries. The Saudi General Directorate of Border Guard said in a statement that the participants are learning new security skills such as personal protection, preliminary investigation, identity verification, arrest and inspection, confiscation of seized items.
The literature on the relationship between public diplomacy and visas is as polarized as the effects that a nation's visa policy can have on its image. Visa liberalization policies, such as the broadening of visa waiver programs, can often enhance a nation's public diplomacy strategy.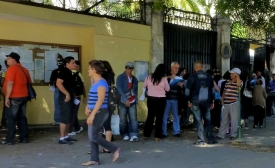 Immigration practitioner Nicholas Dynon explores how visa policies can either boost or threaten a nation's public diplomacy strategy.