detroit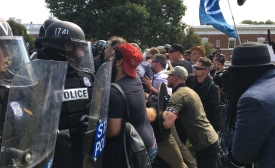 Mark Dillen asks how the Charlottesville protests "will affect the way the world sees us — and the way we see ourselves."
The Israeli-Palestinian controversy is among the most sensitive and lasting issues in global politics. The 68-year war continues to spark debates among politicians, organizations and local citizens throughout the world. And it has encouraged one Metro Detroiter to join the two sides through food. Mana Heshmati started Peace Meal Kitchen, a gastro-diplomacy pop-up restaurant in Detroit, to gather people around a table, sharing food and exchanging cultural ideas. 
The abandoned Packard Plant in Detroit is one of the most famous buildings to be sold after the city filed for bankruptcy. It's famous both for its mammoth size — 40 acres in the eastern part of the city — and its state of ruin. The plant has been closed for more than 60 years and aerial photos make it look like a scene from a disaster film. But that doesn't seem to daunt Spanish developer Fernando Palazuelo, who lives in Lima, Peru. He recently bought the Detroit plant at an auction.