israAID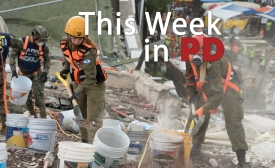 This week's PD News focused on nations, organizations, and celebrities helping people in need.
Mexico City was badly damaged in the deadly 7.1 magnitude September 19 earthquake, and although aid poured into the city, the hard-hit villages were left to cope alone until volunteers from Israeli humanitarian aid nonprofit IsraAID suddenly turned up. "IsraAID was the first group to offer help to our village," said a resident of Hueyapan in the Mexican state of Morelos, one of the areas most affected by the recent earthquakes.
Israeli emergency teams have deployed to Peru to support affected communities following floods and mudslides that have eviscerated much of the country's infrastructure. The Peruvian government said it needed international aid to help hundreds of thousands of people displaced by flash floods and landslides. IsraAID deployed a team to support affected communities in impoverished and remote areas.