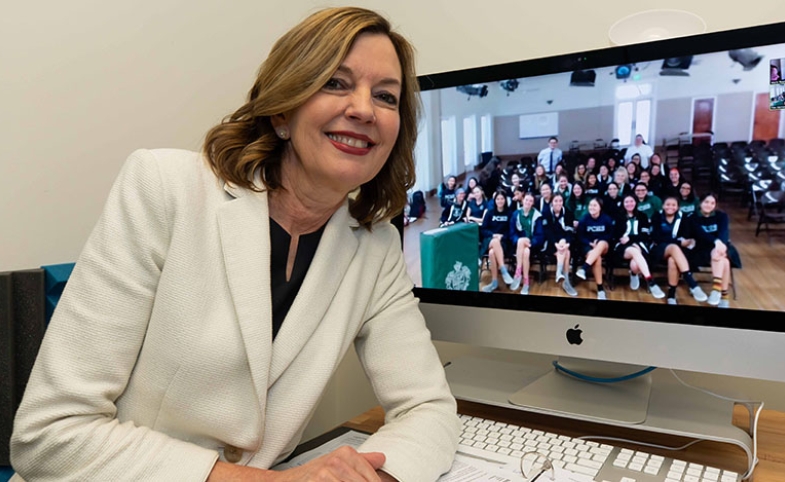 Marie Royce Joins CPD Advisory Board
The USC Center on Public Diplomacy is delighted to welcome businesswoman, diplomat and educator Marie Royce as the newest member of the CPD Advisory Board.
Royce is CEO of Marie Royce LLC and serves on the Board of Cognito Health. She was U.S. Assistant Secretary of State for Educational and Cultural Affairs (2018–2021). In her role, she managed the Bureau's wide range of global programs to advance U.S. foreign policy objectives through educational, professional, cultural and sports exchanges. She oversaw the Presidentially-appointed Fulbright Foreign Scholarship Board and the Presidentially-appointed Cultural Property Advisory Committee.
"We are honored that Marie has agreed to join the CPD Advisory Board," commented Board Chair Barry A. Sanders. "Her longstanding leadership, depth of understanding and commitment to public diplomacy are invaluable assets to all we're doing." 
"Marie is a proven leader in public diplomacy and brings a wealth of knowledge and experience in international exchange and cultural diplomacy," said CPD Director Jay Wang. "She joins CPD at a critical juncture as we lead and accelerate the field-building effort."
Previously, Royce was a Fortune 500 Executive for over 25 years at The Procter & Gamble Company, Marriott International and Nokia/Alcatel-Lucent. She held leadership positions on 20 non-profit boards and was a private-sector appointee on the Advisory Committee on International Communications and Information Policy at the State Department (ACICIP). She also served on two U.S. Cultural Exchange Boards: Meridian International and the American Council of Young Political Leaders (ACYPL).
Her full bio can be found here.
About the CPD Advisory Board
The USC Center on Public Diplomacy's Advisory Board comprises prominent figures in various fields related to public diplomacy who are invited to serve for a period of three years. The CPD Advisory Board provides support and strategic guidance to CPD staff regarding the development of the Center as an international resource. For a full list of board members, please click here.
Visit CPD's Online Library
Explore CPD's vast online database featuring the latest books, articles, speeches and information on international organizations dedicated to public diplomacy.