black history month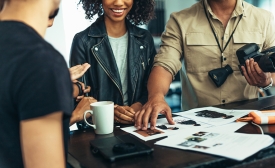 University of Oxford PhD candidate Warren Stanislaus shares a case study of a recent Black History Month project.
"Black Synergy," this year's Black History Month theme, refers to the stimulating collaborations and events that the Africana studies department is bringing to the CSUN community this month. "We spearhead the celebration of Black History Month," said White. According to White, Black Diaspora aims to remind the community of this month in an intellectual, artistic, and rhythmic way.
While successful people-to-people diplomacy always requires hard work and creativity, a little star power never hurts.  So when recently-retired Major League Baseball great Ken Griffey, Jr. joined 2004 Olympic softball gold medalist Natasha Watley to serve as State Department sports envoys for "Diamond Diplomacy" activities in Mexico City from February 28 to March 4, the program was destined to sparkle.