international medical corps
International Medical Corps, established in 1984, and where I currently work, is a global, humanitarian, nonprofit organization dedicated to saving lives through health care training and relief. In order to spread awareness about the Syrian refugee crisis, International Medical Corps went one step further by using visual storytelling to provide a voice for refugees. "The Things We Carry" campaign, launched in March 2017 by International Medical Corps and the Conrad N. Hilton Foundation is an effort to keep public attention on the ongoing crisis in Syria.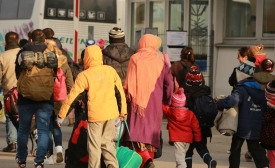 Laurence Desroches discusses a new digital storytelling campaign designed to bring attention to Syrian refugees.