maria zakharova
Olga Krasnyak delves into embassy tensions and public response, per the recent strife between Russian and U.S. diplomatic residences.
On September 2, 2017, U.S. authorities seized the buildings of the General Consulate of the Russian Federation in San Francisco and the Russian Trade Mission in Washington, D.C. Simultaneously, Russian representatives were denied access to the rented premises of the Russian Trade Mission in New York...Despite emotional coloring and personification, this situation suggests a "tit for tat" of diplomatic expulsions. The diplomats of both countries should know where to draw the line.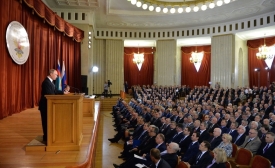 Olga Krasnyak looks at how the actions of diplomats can impact national image.