musicology
Music and Diplomacy from the Early Modern Era to the Present is a book edited by Rebekah Ahrendt, Mark Ferraguto, and Damien Mahiet which delves into the topic of music diplomacy by analyzing historical and contemporary cases. It explores how music (its concepts, practices, and institutions) shape the exercise of diplomacy, the pursuit of power, and the conduct of international relations.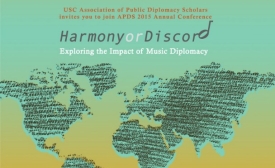 When: Feb 13th, 8:30am - 5:00pm. Reception to follow
Where: Annenberg Auditorium
This is a free event
To RSVP, click here.