sculpture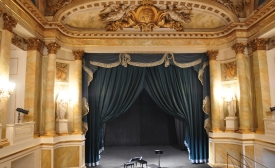 The latest in cultural diplomacy news and events.
Native American Choctaw leaders have arrived in Ireland to unveil a sculpture celebrating the financial contribution made by the tribe to starving Irish people in 1847. At the height of Ireland's Great Famine, Choctaws in southern states of the USA sent a donation of $170 (£111). [...] A million people died in Ireland and another two million left the country when the potato crop failed for successive years, removing a vegetable that poor people ate every day. [...] The Choctaw people empathized with Ireland's famine victims.
From the glories of ancient culture to darker shades of contemporary conflict, works by Iraq's most influential artists are to go on display at a major European event expected to draw at least 500,000 visitors. The National Pavilion of Iraq's exhibition will be staged at the 57th Venice Biennale in May and feature artefacts spanning six millennia from the Neolithic Age to the Neo-Babylonian period alongside the works of eight modern Iraqi artists.