st. petersburg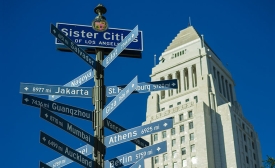 Mark Kristmanson in dialogue with CPD Senior Research Specialist Sohaela Amiri on the value of sister city relationships during crisis.
Geoffrey Robertson and Amal Clooney helped Greece fight for the return of the Elgin Marbles. Britain refuses to listen, but has shocked the art world by secretly loaning one of the antiquities to Russia.
One of the questions newly sworn-in gay Los Angeles City Councilmember Mitch O'Farrell got at a meet-and-greet at the L.A. Gay & Lesbian Center last Tuesday, July 23, was from the Center's Chief Public Affairs Officer, Jim Key. "You've probably heard about the horrible anti-gay crackdown in Russia, and know that St. Petersburg—which passed the 'anti-gay propaganda law'—is a 'sister city' to Los Angeles. We don't think L.A. should be affiliated with such a city," Key said.