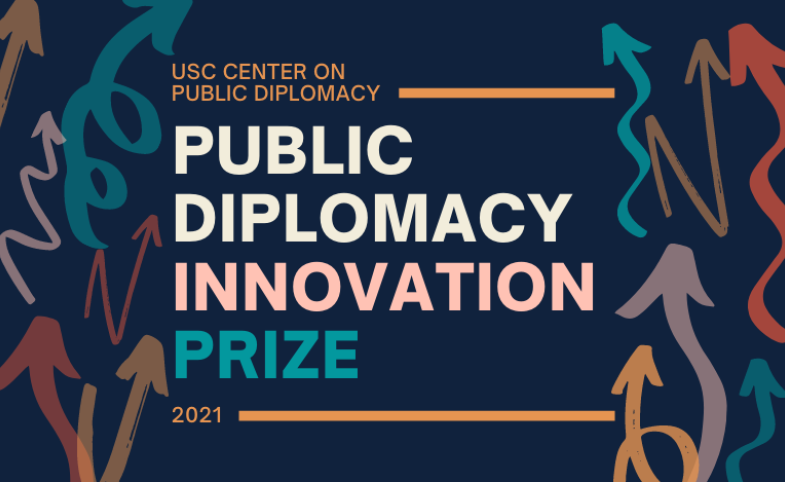 CPD Launches Public Diplomacy Innovation Prize
In our increasingly globalized world, trust and mutual understanding are more important than ever. Public diplomacy, a sovereign nation's outreach to foreign publics, provides the toolkit to get us there.
The USC Center on Public Diplomacy, in collaboration with the U.S. Department of State, is pleased to announce the first ever Public Diplomacy Innovation Prize to recognize programs and practices that create innovative solutions to vital challenges in contemporary public diplomacy.
The prize will be awarded to a mid-career U.S. Public Diplomacy Officer who has demonstrated exceptional innovation and creativity in implementing a public diplomacy campaign or program focusing on foreign audiences. In addition to a cash prize, the recipient will participate in a week-long residency at the University of Southern California, where they will engage with students, scholars, and members of the broader community in the global city of Los Angeles. 
The Public Diplomacy Innovation Prize is designed to promote public diplomacy as a critical tool for foreign policy and international relations within the U.S. Department of State and beyond. In recognizing emerging leaders in this space, we hope to inspire newer entrants to the foreign service to develop and implement cutting edge strategies and practices to promote U.S. interests abroad and improve global cooperation. These innovations will not only demonstrate public diplomacy leadership on behalf of the United States, they will serve to further build the field at a moment when public diplomacy is needed more than ever.
Nomination and Selection
Nominations for the Public Diplomacy Innovation Prize may be made by any current U.S. Public Diplomacy Officer, including self-nominations, and are due by May 14, 2021. A winner will be announced in the summer of 2021. You may find the complete nomination guidelines here.
Prize Committee
The recipient of the 2021 Public Diplomacy Innovation Prize will be selected by a distinguished committee of leaders, representing a diversity of sectors and experiences. The USC Center on Public Diplomacy is grateful to the following individuals for contributing their time and expertise to this important initiative.
Support the Prize
CPD thanks Advisory Board Member Loida Nicolas Lewis and Advisory Board Chair Barry Sanders for their generous support of the 2021 Public Diplomacy Innovation Prize. Additional sponsorship opportunities are available to donors who believe in the power of public diplomacy to address policy issues at a global scale, promote peaceful resolutions to complex problems, and ensure prosperity and stability for nations around the world. Contact Stephanie Van Sickel, Director of Development, at vansicke@usc.edu to learn more about how you can get involved.
Visit CPD's Online Library
Explore CPD's vast online database featuring the latest books, articles, speeches and information on international organizations dedicated to public diplomacy.