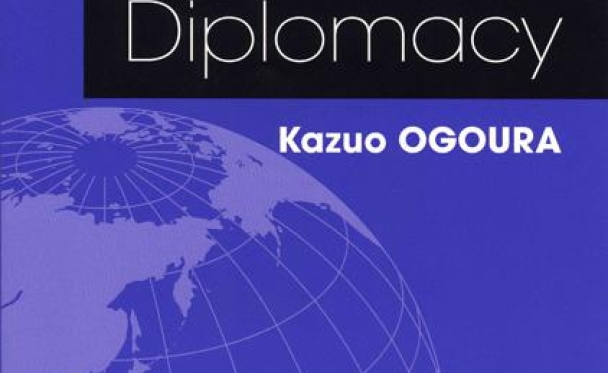 Japan's Cultural Diplomacy
Japan Foundation president Kazuo Ogoura has held high posts in his country's Ministry of Foreign Affairs and has served as Japan's ambassador to Vietnam, South Korea, and France.  His diplomatic experience infuses Japan's Cultural Diplomacy with pragmatic recognition of the value and the limits of cultural diplomacy.

This slim volume contains much important information about Japanese diplomacy and general diplomatic practices.  Ogoura defines cultural diplomacy as "the use of cultural means to enhance a nation's political influence."  He distinguishes this from public diplomacy, which he defines as having "a well-defined political objective" and being "aimed at certain pre-determined targets," while cultural diplomacy has broader, less precise goals related to improving a nation's image.

Ogoura shows how Japan has carefully and persistently used cultural diplomacy throughout the years since World War II.  In the period immediately after the war, notes Ogoura, "when in engaging in cultural activities overseas, the Japanese government emphasized such traditions as the tea ceremony and ikebana (flower arrangement), with the intention that they would convey Japan's serene, peace-loving nature to the rest of the world."  At the same time, he adds, "the overseas promotion of certain elements of traditional Japanese culture, particularly those related to the samurai spirit or feudal traditions, was discouraged."

Also receiving emphasis were exchange programs designed to internationalize Japan's outlook.  For a country that had long favored insularity, exchanges were seen, writes Ogoura, "as a means to promote Japanese understanding of foreign cultures."  Today, he notes, a goal of Japanese cultural diplomacy is to "not only propagate Japanese thought and traditions to the world but also aim at introducing non-Japanese culture to Japan to enrich the cultural heritage of the world."  Further, according to Ogoura, "Japan has begun to harness cultural exchange as a means of building peace."

Recently, Japan employed cultural soft power when its cooperation with the United States during the Iraq war created image problems in the Middle East.  Picture books for children, anime, and an invitation to Iraq's national football team to come to Japan were among the measures employed.

Also, globalization has led to what Ogoura calls "corporate de-Japanization," with an increasing number of Japanese firms being headed by foreign presidents, and a tendency to reduce the perceived "Japaneseness" of Japan's international business community.  Ogoura notes that this is a different course than that followed elsewhere in Asia: "While Japanese corporations are busy divesting themselves of their national identity, people in other Asian countries are becoming increasingly nationalistic and patriotic."

In the midst of the shifting politics of Asia, cultural diplomacy is becoming more important.  As has been seen during times of tensions between Japan, China, and South Korea, cultural exchanges, writes Ogoura, "acted as a kind of safety valve," helping those tensions dissipate outside conventional political processes.

Japan's Cultural Diplomacy does an excellent job of showing how principles of public and cultural diplomacy are refined according to an individual country's needs.  During the 65 years since the end of World War II, Japan's diplomatic goals have steadily evolved and, as Kazuo Ogoura so ably illustrates, cultural diplomacy has been an essential element in reaching those goals.


Japan's Cultural Diplomacy
Kazuo Ogoura
The Japan Foundation, 2009
ISBN: 978-4-87540-107-0
82 pages