10 Biggest Public Diplomacy Stories of 2014
As part of the CPD Annual Review process, in January we highlighted some of the year's key public diplomacy moments in our Top 10 List of the most notable stories from 2014. To select the stories, we convened a panel of international public diplomacy experts and asked each to choose the most significant public diplomacy stories of 2014 from a list of 50 (see Appendix 2). From the panelists' choices we ranked the top ten stories based on the number of votes, comments, and global significance.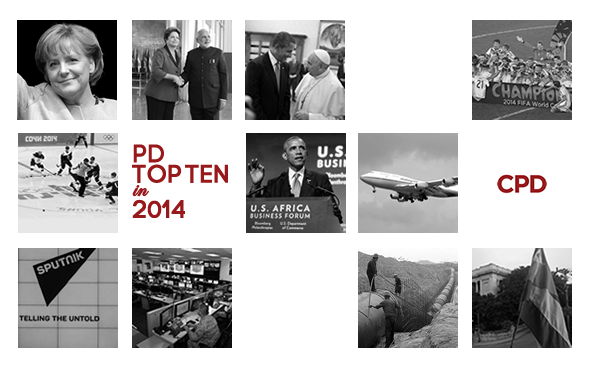 1.The Rise of Digital Warfare
Digital communication technologies were an increasingly potent weapon in global conflicts this year: supporters of both Israel and Hamas took to social media to galvanize their virtual troops, a Twitter-based hashtag battle arose between the U.S. and Russia after recent events in Ukraine, and ISIS employed social media for recruiting purposes while the U.S. waged social media campaigns against them.
Jan Melissen, Senior Research Fellow at Netherlands Institute of International Relations, Clingendael, believes that the United States can be considered a leader in using of social media to advance its foreign policies, but he also points out to the growing number of none-state actors who use digital diplomacy to advance their interests. "Repulsively media savvy ISIS is merely one of them." Melissen also warns that "the growing use of social media, is becoming the steepest challenge for tomorrow's diplomatic practice. It makes many public diplomacy debates look like part of a much bigger diplomatic shift."
As R.S. Zaharna, Associate Professor at American University, expresses, in 2014 "both Israeli and Palestinians have creatively and proactively pushed the boundaries of digital media and social media platforms…significant also is the public participation in public diplomacy – the diaspora publics on both sides have been particularly active."
2. The Pope's Progress
Pope Francis had a busy 2014. He continued to make headlines with his progressive speeches denouncing homophobia and racism, helped broker peace between the U.S. and Cuba, and attempted to mend relations between Israel and Palestine in his landmark trip to the Middle East.
"Pope Francis has demonstrated once again in 2014 that he is a global public diplomacy force. During the past year he has not only sustained an incredible level of engagement, but has done so strategically," says Caitlin Byrne, Assistant Professor of International Relations at Bond University. "His progressive views may have ruffled some feathers – particularly within the Catholic Church, but his core focus on social inequity has found global appeal, resonating with publics from Africa to Latin America and everywhere in between."
3. Cuba in the Spotlight
Cuba took the lead with its pioneering "Ebola diplomacy," in which Cuban medical professionals hit the ground in West Africa before help arrived from any other nation. The Cuba-U.S. rapprochement in December was the cap to a remarkable year.
Cuba's leadership in responding both quickly and decisively to the Ebola crisis in West Africa is to be applauded. Cuba draws upon a solid track record in the mobilization of medicos in response to global health and natural disasters.
–C. Byrne
"In my view, the top PD story of 2014 is President Obama's mid-December announcement that the United States will take steps to end the longtime diplomatic standoff between the United States and Cuba," says Emily Metzgar, Associate Professor at The Media School at Indiana University. The significance of this story according to Metzgar is that "it presents a clear opportunity for the implementation of a full-throated public diplomacy campaign to re-introduce the United States to the Cuban people and to launch much-needed bilateral engagement efforts."
4. China's New Silk Road
More indication of China's expanding global footprint: the unveiling of two ambitious economic diplomacy initiatives, known as the Silk Road Economic Belt and the 21st Century Maritime Silk Road. Through these efforts the Xi administration envisions expanded ties with China's neighbors.
Anbin Shi, Professor at Tsinghua University, points out to the World Bank's estimation that identified China as World's biggest economy in 2014 and the inauguration of "the Chinese Century" in 2015 to stress the "urgency and necessity of launching a visionary campaign of economic diplomacy by resuscitating the historical legacy of silk road" and reassuring the West that "the world's powerhouse is non-threatening."
5. The Grand Games
2014's FIFA World Cup and Winter Olympics offered opportunities for host countries (Brazil and Russia, respectively) to raise their global profiles. Both countries faced significant domestic and international challenges in their efforts to host the games; the resulting media attention appeared to be mixed, or fleeting at best.
Brazil did it! Its image took a beating, but Brazil was able to pull through despite an avalanche of 'bad PD.' Ironically, it wasn't that long ago that being the center of world attention as the Olympic or World Cup host was the guaranteed ticket to boost one's national image. No more.
–R.S. Zaharna
6. The First U.S.-Africa Summit
The inaugural gathering of U.S. and African leaders took place in Washington, DC over the course of three days this past summer, sending a strong signal of deepening diplomatic and economic engagement between the United States and African nations.
7. Revival of Russia's Media Machine
Russia launched Sputnik – not a space satellite, but a multimedia news outlet with a global reach. Alongside RT (Russia Today), Sputnik represents Russian efforts to provide international audiences with a counterpoint to Western media narratives.
8. Malaysia's Crisis Management
The two Malaysian Airlines disasters offered case studies in the public handling (or mishandling) of international tragedy, highlighting the need to manage crises through multinational collaboration in an increasingly global context.
9. Germany, More Popular than Ever
With a growing role in European and global affairs, Germany's public appeal led it to a new ranking at the top of the 2014 Anholt-GfK Roper Nation Brands Index. Victory at the FIFA World Cup added to the nation's soft power appeal. "Despite receiving relatively little attention within academia, Germany's Auswärtige Kultur- und Bildungspolitik is smart, well-resourced, and self-assured," says James Pamment, Assistant Professor of Media & Communication Studies at Karlstad University. "Its success has less to do with the World Cup and more to do with the annual €1.6 billion public diplomacy budget. Germany is an admirable country, and it is comfortable helping its citizens show the world why." 
While I think the re-emergence of a NATO/Russia propaganda duel is the biggest story, to me the emergence of Germany at the top of the Anholt index is also massive.
–Nicholas J. Cull
10. Modi's Savvy Global Outreach
Since Narendra Modi came into office, his public diplomacy efforts have been tireless and exemplary. Dubbed India's "Fast Track Diplomacy," Modi's international visits and use of social media have raised India's profile on the world stage.
The Top 10 stories encompass a wide range of public diplomacy activities and moments in 2014, but there were a number of additional stories mentioned by our experts that deserve listing here, and may reflect an even more diverse swath of public diplomacy activities for the year: Turkey ranking third in Aid Diplomacy, the United States' push for LGBT rights; Muslims' online campaigns against extremism and stereotypes; a new VOA Bill; and Korean Soap Opera's growing popularity. 
Visit CPD's Online Library
Explore CPD's vast online database featuring the latest books, articles, speeches and information on international organizations dedicated to public diplomacy.