The 2014 CPD Annual Review demonstrates that although public diplomacy is present in every region of the world, it is predominantly in the northern hemisphere. North America is ranked the most active region in public diplomacy, with the United States contributing the most. Asia (Asia Pacific, Southeast Asia and Central Asia combined) comes in second, and Europe is third, with almost the same presence as Asia. As expected, China, Japan, and South Korea take the lead as the major actors in Asia Pacific. India is also very active in PD in South Asia. Turkey, Israel, Qatar, and United Arab Emirates are the major PD actors in the Middle East, and in Latin America, Brazil, Mexico, and Colombia are the major players. African countries do not have a strong presence in the English-language PD News monitored by CPD.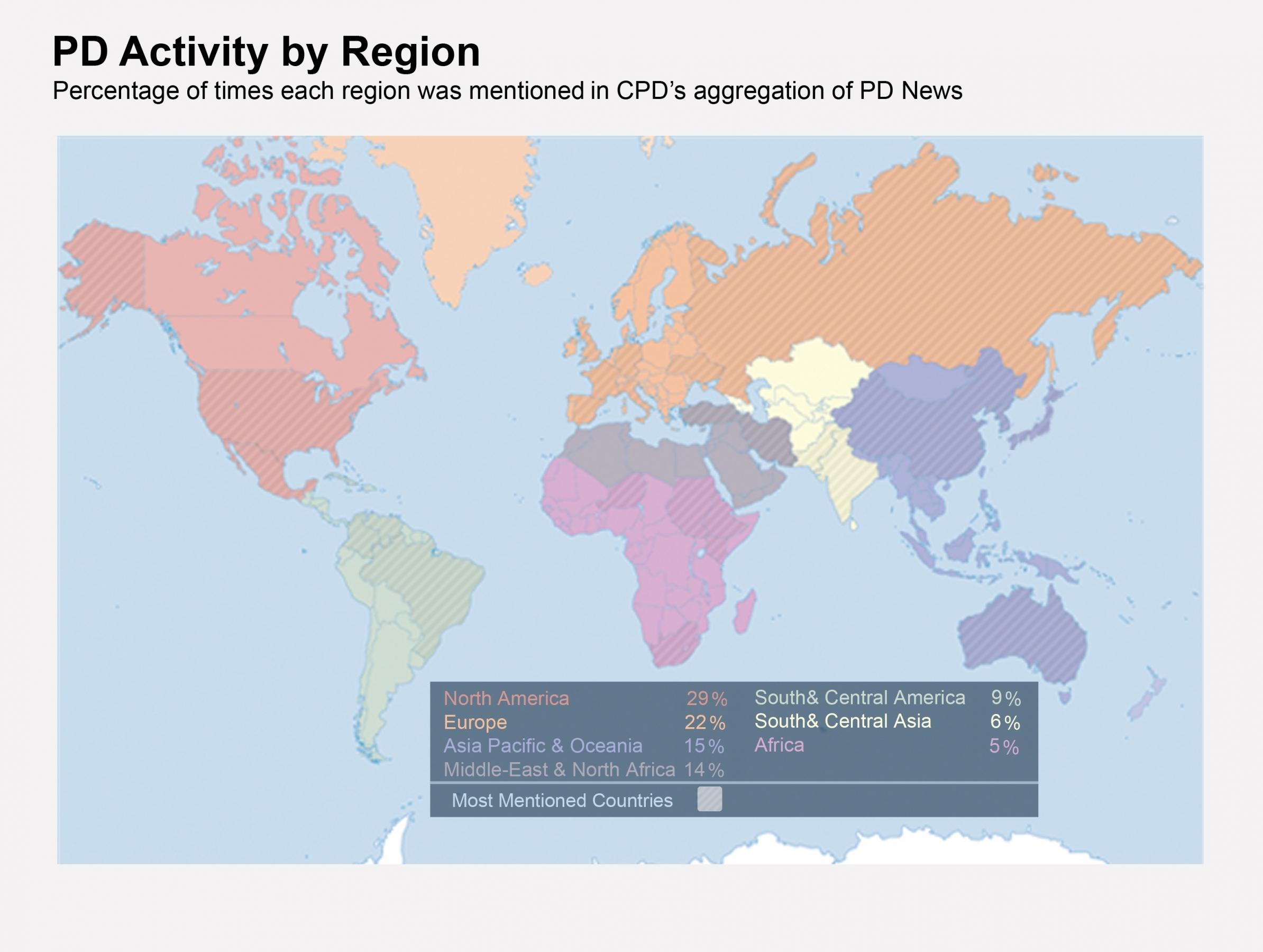 Figure 1
Right-click to view an expanded graphic in a new tab
In order to identify this year's most active countries in public diplomacy, we separated the news stories with PD implications from the ones that feature a particular PD activity with an identifiable PD actor. From 1,336 stories that fell under the latter category, we were able to identify the top ten most active countries in public diplomacy: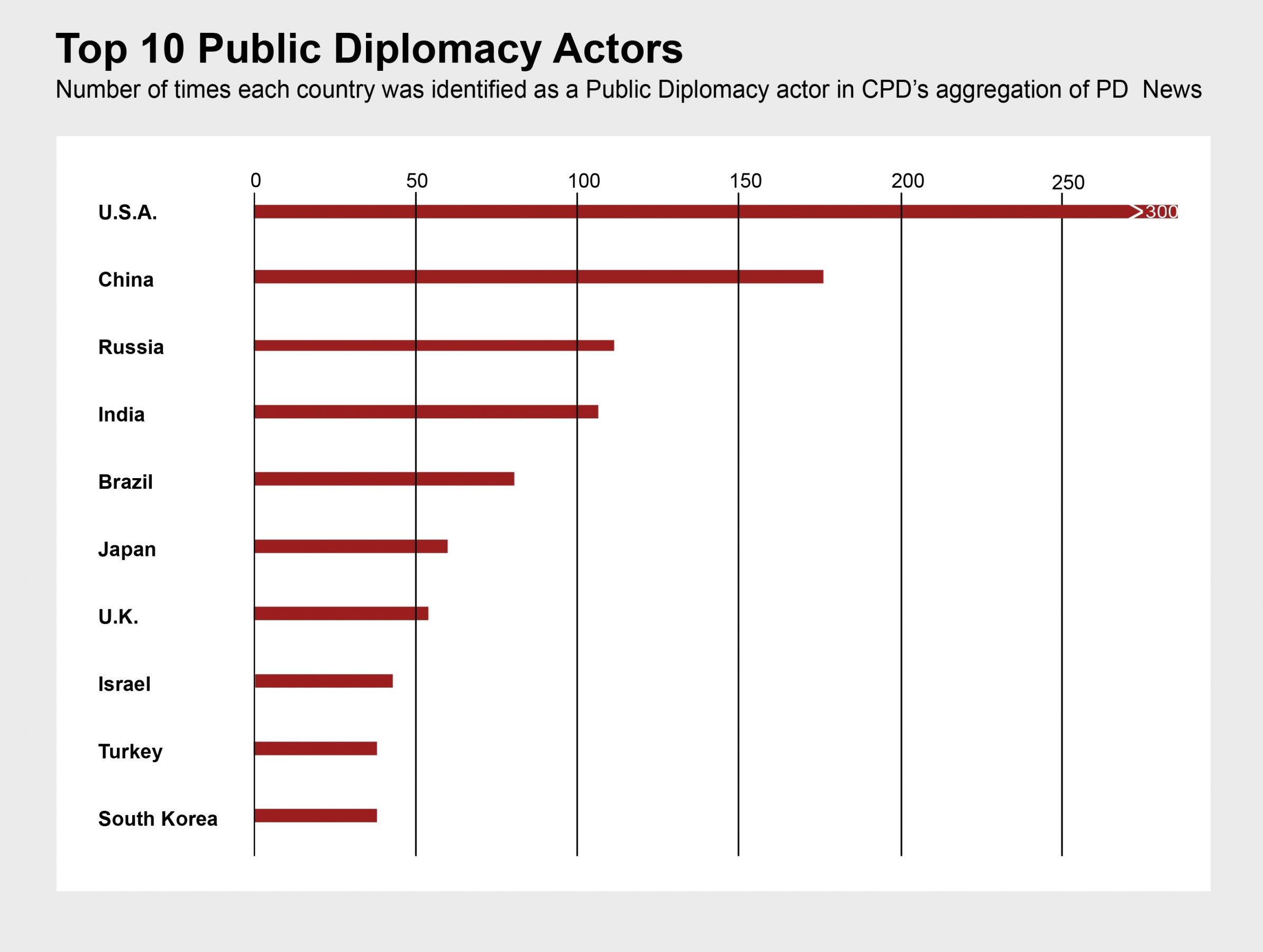 Figure 2
Right-click to view an expanded graphic in a new tab
In order to better understand the range of public diplomacy activities, we divided new stories into 12 categories and associated each story with at least one category. As in 2013, Government PD and Cultural Diplomacy remain the two most popular types of PD practiced worldwide. In 2014, we saw a rise in digital diplomacy initiatives, as well as those by non-state actors attempting to influence global public opinion and international policies.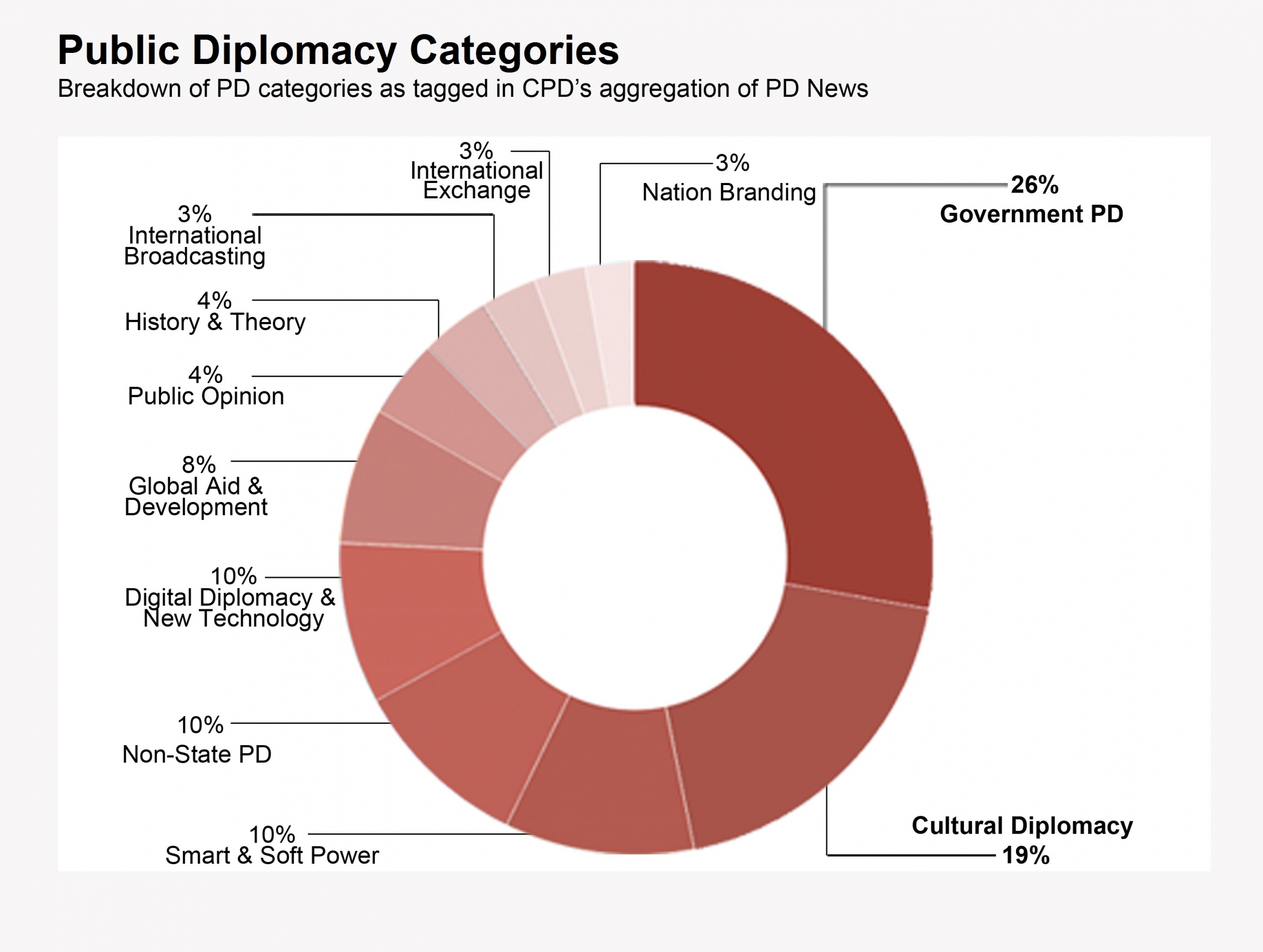 Figure 3
Right-click to view an expanded graphic in a new tab
The 21st century is witnessing - and will continue to witness - the erosion of the monopoly of the Nation-State as an actor in the international arena. Increasingly, non-State actors are playing and will play a role in international affairs and diplomacy.
-Navdeep Suri
The top five countries most active in digital diplomacy in 2014 were the United States, Russia, India, Israel, and Canada. Most of these countries' activities made it to our list of top ten PD stories of 2014. 
There was also an increase in the number of countries sponsoring and participating in global development projects and humanitarian aid in 2014. Many took part in the global fight against Ebola, with Cuba taking much of the spotlight in that effort. Many countries also spent generous amounts to help war victims, provide disaster relief, and assist in efforts to combat climate change.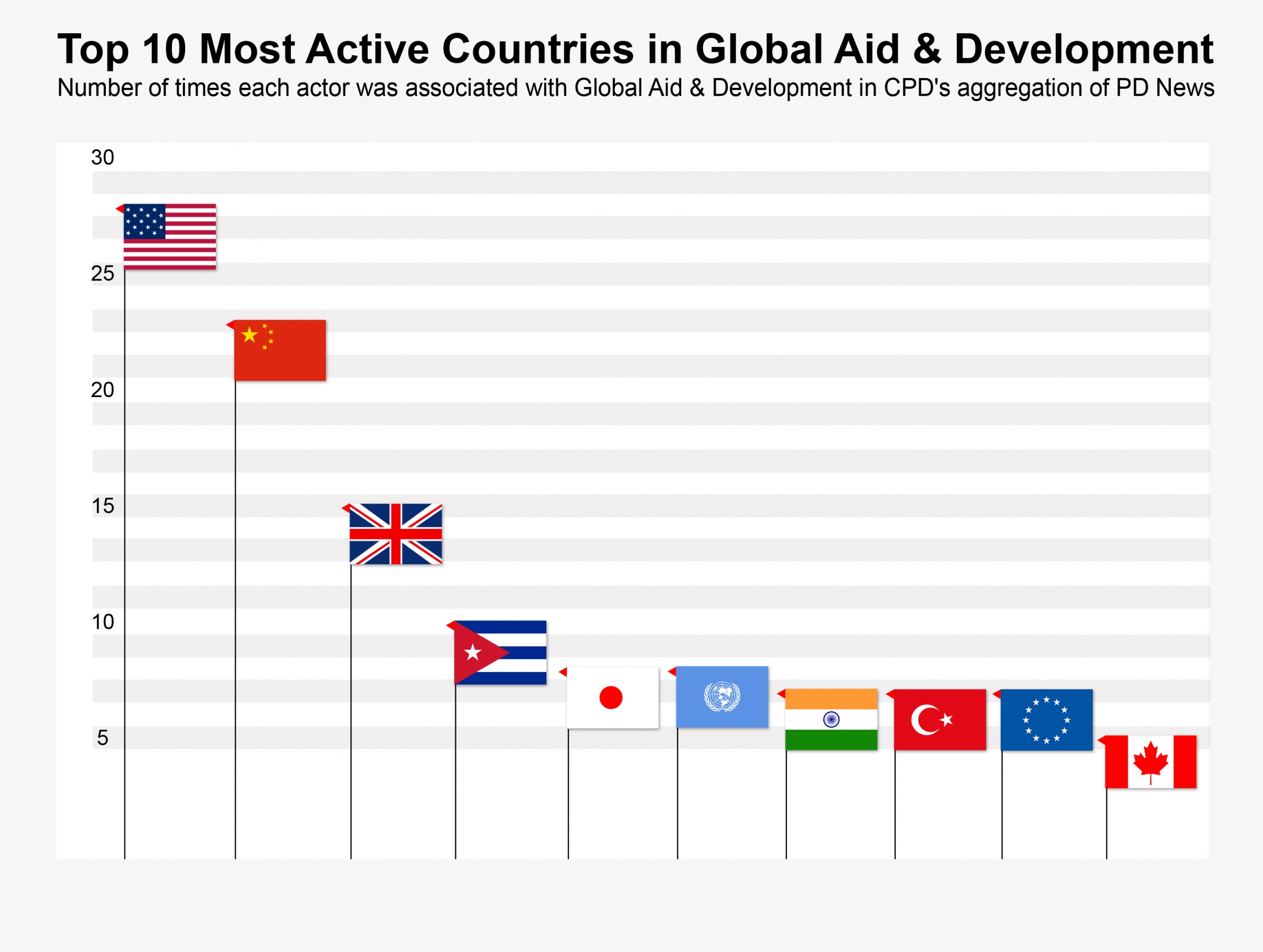 ​Figure 4
Right-click to view an expanded graphic in a new tab
According to the Global Humanitarian Assistance Report released in September 2014, Turkey was ranked the world's third most generous country by providing $1.6 billion for international humanitarian aid. If this amount was calculated per each country's GDP, Turkey would have made it to the top of the list. The majority of Turkey's relief aid budget in 2014 was sent to Gaza and Syria, as well as other Muslim nations.
Cuba's medical diplomacy made it another actor worth watching in this category.
Cuba has been responding to humanitarian crises since the 1960 Chilean earthquake and has been providing extended medical assistance since Algeria in 1963. The intimate level of human contact and emotional rewards of life-saving medical diplomacy provides much more powerful impact than cultural diplomacy…[Cuba's humanitarian assistance] has been consistent over several decades; it uses a 'community-based' approach that takes doctors to the people; and it has a high symbolic value that such a small country is doing more than the big powers.
–R.S. Zaharna
In addition to CPD's 12 major categories of public diplomacy news, news stories were tagged with other keywords to help identify trending news topics from 2014. Climate change, international trade, LGBT advocacy, global sports events, gender issues, and Ebola were among the most prominent topics. Some examples are captured in our list of 10 Biggest Public Diplomacy Stories of 2014.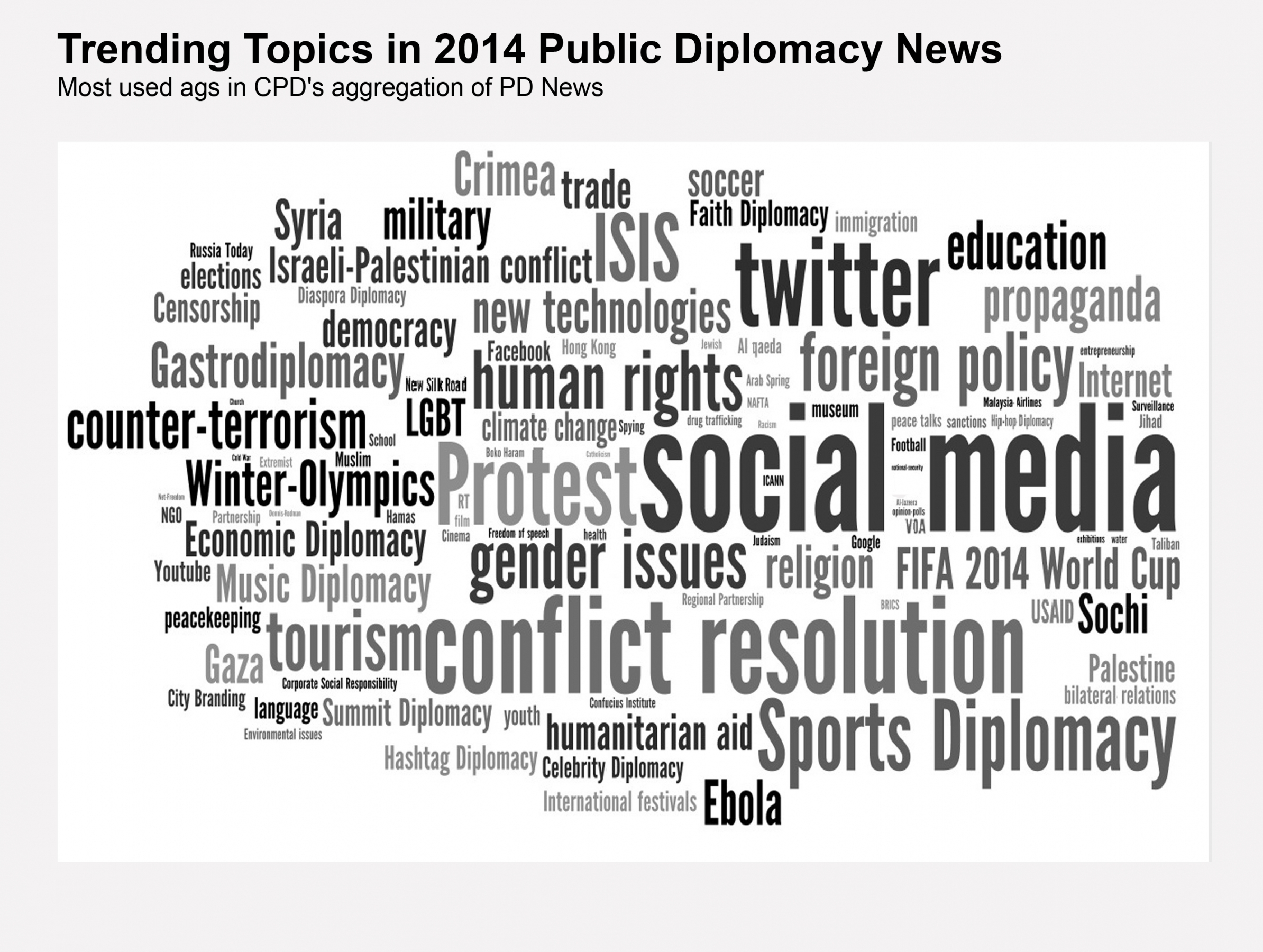 ​Figure 5
Right-click to view an expanded graphic in a new tab
Visit CPD's Online Library
Explore CPD's vast online database featuring the latest books, articles, speeches and information on international organizations dedicated to public diplomacy.